In September 2020, Puntland Livestock Professional Associations (PULPA) with financial support from the Food and Agriculture Organization (FAO) conducted training program aimed at strengthening the capacity of the extension service through training of Community Animal Health Workers (CAHWs), which has proved to be an effective means of community embedded veterinary service delivery especially in pastoral and remote areas that practice nomadism and where public veterinary services are minimal.
PULPA has conducted 6 weeks training program for 24 selected trainees from Mudug, Nugal and Bari regions to acquire knowledge and skills in animal husbandry practices, basic veterinary medicine, rationale use of veterinary drugs, basic surgical procedures, disease surveillance, basic business skills and book-keeping, professional handling and dispensing of veterinary drugs.
The training was held in three sites (Dangoroyo, Waaciye and Bacaadweyn) and 6 CAHWs master trainer previously trained by FAO have delivered the training.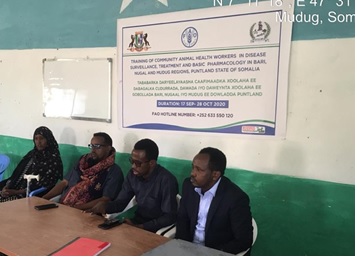 The training kickoff ceremonies in the three training sites were participated by the local authorities, Ministry of livestock representatives, community elders, civil society organization, women and youth. PULPA chairman and Deputy Chairman have attended the events. All participants underscored the importance of CAHWs in delivering animal health services in hard-to-reach-areas with high population of livestock.
At the end of the training period, the trainees will be able to provide treatment services in their respective communities, whereas livestock keepers will benefit substantially from the improved disease management and overall animal health service delivery which will lead to an increased ability of the pastoralists to maximize their production and access markets.